From Luxury Beauty Products Advisor:
Blitz your skin with TDW White Mint (Menthe Blanche)
Did winter wreak havoc on your skin? Bring it back to life as spring and summer arrive with the 100% natural and cruelty free skin care line, The Doctor's Wife. It is an affordable, authentic, professionally and ethically formulated skin care line based on effectiveness  and quality to deliver  beautiful results.
"After years of searching for the perfect product for my skin and constantly trying one thing after another only to be disappointed with the lack of results, my husband and I decided to solve the problem ourselves," said The Doctor's Wife creator, Joanne Laverson.  "We set out to craft an effective, yet affordable, all-natural skin care system to fill this void in an oversaturated skin care industry."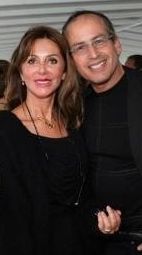 Created by Joanne Laverson and her husband, renowned San Diego based plastic surgeon Dr. Steve Laverson, The Doctor's Wife is a solution that works with 100% all-natural ingredients. They distilled out extraneous plant allergens, removed unnec
essary preservatives, eliminated irritating synthetics and committed to developing formulas that would stand the test of time.
"We believe that contemporary, busy, sophisticated buyers desire and deserve simplicity and effectiveness in their daily routine, including skin care," Joanne continued. "The Doctor's Wife is everything you need, and importantly everything you don't, in a bottle. "
The Doctor's Wife range of
skincare products
is non-comedogenic and hypoallergenic. So don't worry about it clogging your pores or breaking out in a rash. It will help your skin glow and allow you to put your best face forward for all the spring and summer parties, celebrations, weddings, and family get-togethers. The VALUE prices are for everyday women craving a premium product that will give them more bang for their buck.
The Doctor's Wife's daily routine for skin health, hygiene, and freshness consists of four quick and easy steps: cleansing, toning, restoring, and moisturizing. Their top-selling cleanser, Menthe Blanche MICROFOLIATOR, will clear surface dirt, debris, environmental contaminants, cosmetics, impurities, and aged cells, recycling your skin to a new surface daily. The Doctor's Wife also has an awesome line of moisture restoration products, like the Prickly Pear Skin Oil, to create a youthful skin surface. It prevents dryness, preserves and lubricates the skin, and softens fine lines. They also have an entire line dedicated to delivering pure antioxidant protection against aging.
Whether you're looking for sun protection, moisturizer, cleanser, lips, and eye care, or anti-aging products, The Doctor's Wife has something for you, at a price you can afford.